| | | |
| --- | --- | --- |
| 06 013 | GS EARTH ACCOMMODATION. RONDE IS. 2008 | 35.200M2 |
| | Accommodation area of the GS Spaceport | design development |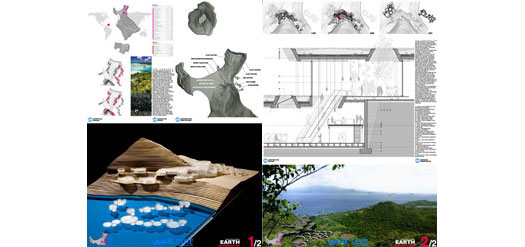 01-ACCOMMODATION AREA: THE CONCEPT
The accommodation area of the galactic suite spaceport is planned on the northern side of Ronde Island where the strong topography of the island is getting flatter until become beautiful beaches with white sand on the northern end. The western side sees the hills go into the sea and the water there, when hit the rocks, creates the foam that are the different buildings appearing. Some of them are on the seashore, others climb the hills. This foam is then petrified into concrete circular structures some of which extend to the ground to stand the whole. These concrete rings are sometimes open like courtyards and sometimes are carrying water or earth planted with vegetation.
The main common areas are divided in two floors. The second accommodates the spa area while in the first floor  there are the entrances, restaurants and conference halls. Below this floor there are the open air courts where to play tennis, paddle…
02-ACCOMMODATION AREA: THE CONSTRUCTION
Sustentation system: Ronde Island has rock layer not very deep into the ground whereas it will be easy to fund any structure decided. A further study on the ground composition will be undertaken in order to decide the final technique for funding. Concerning the villas on the seashore, the depth there is from 2 to 5 meters. Offshore foundations will be required but lighter alternatives to concrete caissons are studied.
Structure system: the buildings are conceived as concrete rings that stand on concrete extensions of their walls into the ground. Concrete walls on the back contain the ground and provide inertia.
Enveloping system: some of the rings are pierced to let the light in and some are covered with concrete slabs that will  carry  both water and earth with vegetation. Façades will be both glassed and deployable to let the air circulate and with heavy walls on the back will provide inertia.
Finishing system: the interiors will be warm and comfortable with glass and wood.
Installations system: the building is conceived to maximize the passive systems for conditioning the air through a sustainable study that takes advantage of ground mass to low the temperatures and the humidity. Therefore a minimum energy will be employed on this purpose.